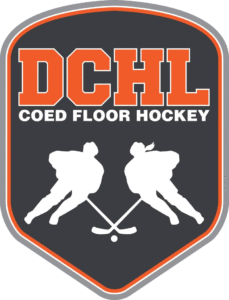 DCHL is the founding league that plays on Sundays indoors at the Rockville Sportsplex with eleven to twelve games between 11 am–11 pm. It has 24 teams with four different divisions so everyone can find the right talent based group in which to compete. DCHL game format offers three 15 minute periods of 5 on 5 hockey and a goalie where at least 2 of the 6 players must be female. The only exception is the X division where games are two 20 minute halves with no gender requirement.
As of July 31st, 2016 we will be in our 22nd season (2016 Spring-Summer) with Expanded Blue Line and modified icing.
We have four divisions designed so all players regardless of skill level can play (beginners start off in the rec division).